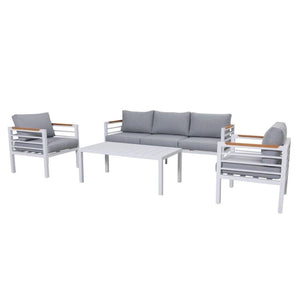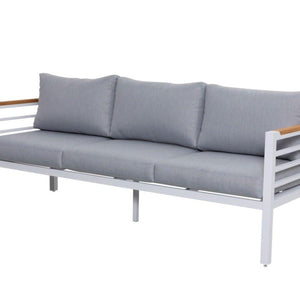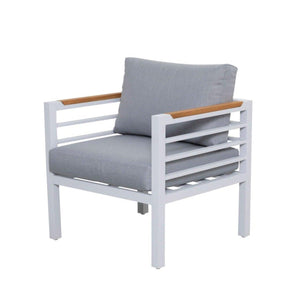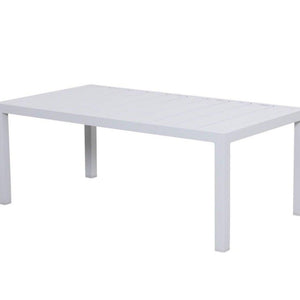 Outdoor Lounge Setting
If you are looking for an outdoor lounge setting to transform your outdoor space into a haven of comfort and style, Olan Living's outdoor lounge furniture takes centre stage. In this exploration, we delve into the intricacies of creating an outdoor oasis that seamlessly blends elegance, durability, and relaxation.

Dive into Comfort

Picture this: A serene afternoon, a gentle breeze, and you lounging on Olan Living's outdoor furniture. Our balcony lounge settings are designed for ultimate comfort, providing the perfect spot for relaxation. Sink into plush cushions, unwind, and let the stress of the day melt away.

Create memories with friends and family as you bask in the comfort of your thoughtfully designed outdoor space.

Uniqueness Redefined

What sets Olan Living's outdoor furniture sets apart is the meticulous attention to detail in design and the use of high-quality materials. Our furniture is not merely an ensemble of pieces; it's a testament to craftsmanship, durability, and timeless style.

The Alchemy of Elegance and Durability

Olan Living's outdoor furniture lounge and outdoor lounge setting is crafted with durability in mind. We believe that outdoor furniture should withstand the elements without compromising on style. Our pieces, whether in aluminium, wicker, or teak, are built to endure, ensuring your investment stands the test of time.

Olan Living's commitment to creating lounge outdoor furniture that transcends mere functionality is reflected in every design. Our pieces are a symphony of style and practicality, where aesthetics and comfort coalesce seamlessly. Embrace the fusion of form and function as you bring home a balcony lounge setting that complements your lifestyle.

Harmony with Nature

Our garden lounge settings are much more than just furniture. They offer an invitation to connect with nature and are crafted to seamlessly blend with the outdoors. Each piece becomes an integral part of your garden, patio, or balcony, creating a harmonious and inviting environment.

Enjoy the tranquillity of your outdoor space with our outdoor lounge set, which is designed to provide ultimate comfort and relaxation.

The Versatility You Deserve

Whether you envision a cozy nook for intimate conversations, a chic space for social gatherings, or a private retreat to escape into a good book, Olan Living's patio lounge furniture offers versatility to match your lifestyle.

At Olan Living, we recognise the uniqueness of every outdoor space. Therefore, our garden lounge setting comes with customisation options. Tailor your furniture to suit your taste, whether it's the colour of the cushions, the frame finish, or the overall design. We believe in empowering you to create a space that is uniquely yours.

Weather the Elements in Style

Olan Living's commitment to durability extends beyond aesthetics. Our patio lounge sets are built to withstand varying weather conditions, ensuring that your investment remains as stunning as the day you brought it home.

While some may associate outdoor living with specific seasons, Olan Living believes that your outdoor lounge setting should be enjoyed throughout the year. With weather-resistant materials and timeless designs, our furniture is ready to embrace every season, providing you with a year-round haven.

Accessorise Your Outdoors

Elevate your outdoor lounge setting with carefully curated accessories. From stylish throw pillows to elegant side tables, we offer a range of accessories to enhance the visual appeal and functionality of your outdoor space. Explore the possibilities of creating a personalised haven under the open sky.

Creating Your Outdoor Sanctuary

Your outdoor space is an expression of your personality. Olan Living empowers you to curate your outdoor sanctuary with a range of styles, colours, and designs. From minimalist modernism to timeless classics, find the perfect outdoor lounge setting that resonates with your taste.

Expert Guidance for Your Outdoor Haven

Choosing the perfect outdoor lounge setting can be a delightful yet nuanced process. At Olan Living, we understand this, and our team of experts is ready to guide you. From design inspirations to practical considerations, we're here to ensure that your choice aligns with your vision for the perfect outdoor retreat.

Elevate Your Outdoor Experience with Olan Living's outdoor lounge setting

As we conclude this journey through the elegance and comfort of Olan Living's terrace lounge setting, envision your outdoor space transformed into a retreat of style and relaxation. Choose Olan Living—a harmonious blend of durability, sophistication, and comfort for your al fresco living. Your outdoor oasis awaits.

Unlocking the Essence of Outdoor Living: Olan Living's Spectacular Furniture Collection

In the bustling world where comfort meets design, Olan Living stands out as a beacon of excellence in outdoor furniture. Embark on a journey with us as we explore the epitome of outdoor elegance and sophistication.

Crafting Comfort with Aluminium Elegance

Discover the allure of aluminium outdoor lounge settings that marry durability with style. Our white aluminium outdoor lounge sets elevate your outdoor space, offering not just a seating arrangement but a statement of sophistication. Olan Living's commitment to quality shines through in every piece.

Dive into the Poolside Luxury

Transform your poolside experience with our poolside lounge collection. Immerse yourself in luxurious comfort with our thoughtfully designed poolside lounges, adding a touch of opulence to your aquatic retreat.

Lounge Sets for Unparalleled Relaxation

Our lounge sets redefine outdoor relaxation, offering a perfect blend of functionality and aesthetics. Whether it's a serene garden setting or a cozy balcony, Olan Living's lounge sets are crafted to enhance your outdoor experience.

Alfresco Bliss: The Alfresco Lounge Collection

Experience the charm of outdoor living with our Alfresco Lounge Collection, seamlessly integrating with nature and creating an inviting retreat.

The Perfect Outdoor Lounge Set for Your Space

Explore our diverse range of outdoor loungesets, each designed to cater to different tastes and spaces. From contemporary designs to timeless classics, Olan Living ensures that your outdoor space reflects your unique style.

Outdoor Living Furniture: Where Comfort Meets Elegance

Olan Living takes pride in offering outdoor living furniture that transcends the ordinary. Our pieces are crafted with precision, ensuring that each item becomes a functional work of art in your outdoor sanctuary.

Patio Lounge Sets: A Fusion of Form and Function

Upgrade your patio with our meticulously designed patio lounge sets. We understand the importance of a well-appointed patio, and our collection is a testament to our commitment to enhancing your outdoor living spaces.

Aluminium Outdoor Lounges: Timeless Elegance

Indulge in the timeless elegance of our aluminium balcony lounge settings. Each piece is a celebration of sophistication, bringing a touch of class to your outdoor gatherings.

PC's Lounge: Personalised Comfort

Explore the comfort of PC's Lounge, where personalised comfort takes centre stage. Our lounges are more than furniture; they are an experience tailored to your relaxation preferences.

Explore our online furniture shop today and create a lovely space with our best outdoor lounge sale.